Rainy Dorset Days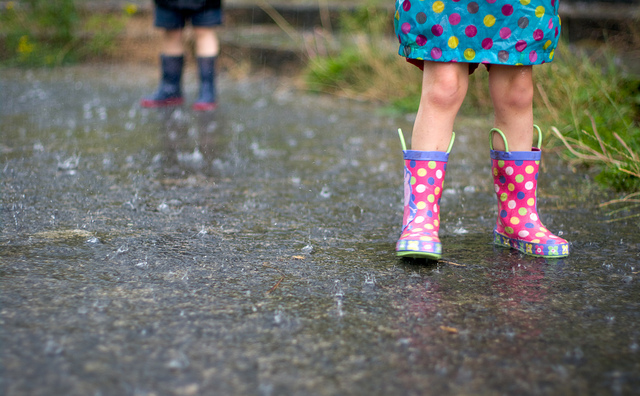 Rainy days are great..........sometimes.
You can stay indoors and have a duvet day or get the wet weather gear and brollies out and go splashing in the puddles. But, the Great British weather does have a habit of dishing it out just a little too often and sometimes we need ideas for places to go and things to do.

Dorset has a huge choice of Soft Play Centre's and Play Cafe's which is a great but sometimes they get extremely busy on a wet day so it is advisable that you contact them before you start travelling.
You could take the children to a local Museum. Nearly every town has a Museum and many have craft areas for children and special events. The Tank Museum and the Royal Signals Museum offer plenty of activities in and out of term term and the children will be entertained for hours!
If you like water then you could go swimming at Splashdown in Poole or you could even head to the Dorset Waterpark near Corfe Castle. The Dorset Waterpark is outdoors but if you're going to get wet then you might aswell do it in style!
If you fancy saying hi to some turtles or sharks then there's the Weymouth Sealife Adventure Park or the Oceanarium in Bournemouth. There's also a lovely little Aquarium in Lyme Regis which offers customers the chance to hand feed their mullet and hold a starfish.
Contact your local sports centre to enquire about current activities. Some centre's run great pre school classes in term time and nearly all of them have a fantastic full timetable of activities for the older one's in the school holidays.
If you have a pre-schooler to entertain then you could try a toddler group you haven't been to before or pop along to your nearest children's centre when they have their free play sessions.
Other family friendly ideas include a trip to a local garden centre, bowling alley, cinema, pottery painting cafe, ice skating and trampolining or you could head to Sandworld in Weymouth, Putlake Farm near Swanage, Ramp Rats skate park in Poole or try the Clip 'n' Climb or Highline at RockReef on Bournemouth Pier.
Farmer Palmers is also a great all weather day out and perfect if you have an annual pass. Although there are lots of play areas outside you also have the indoor play barns, animals, ride on's, slides, bouncy castle and soft play.
Please check out our Places to go pages to find details on the attractions mentioned and more.
If you are planning to stay in then you could make a den with sheets and pegs. You could even include Christmas fairy lights if you're feeling adventurous! Once finished it'll be the perfect place to sit back and read a book or watch a great Disney film with a bowl of popcorn.
If you are feeling crafty then you could have a go at play doh, painting, handprints, making a scrapbook or if you can find a big box you could make a play house or a car!
There is a great Website called 'The Artful Parent' which is worth visiting and following on Facebook. She has so many ideas which are great for children of all ages.

If you have a printer at home you can Google 'Free Downloadable activity sheets' which is great when you are stuck for inspiration. You'll find anything from colouring in sheets to puzzles and craft projects.
Every household should have at least one board game in the cupboard or you could make an indoor Treasure Hunt to lead the children around the house and answer clues!
Do you have butter, flour, eggs and sugar in the kitchen? Get baking some little fairy cakes and if you have some icing sugar and sprinkles then the children will have great fun making and decorating them. If you need recipe ideas then head to the Blog for some simple Cupcakes.

Whatever you do, have great fun and just remember, the sun will be back out again soon!!!
(Hopefully)
Dorsetmums has made every effort to ensure the accuracy of the information contained in this site and does not accept liability for any errors or omission. Please also note that an event or venue may cancel or close at any time and you should consider contacting beforehand.
Rainy Dorset Days